Whether used indoors or outdoors, rocking chairs are popular, familiar pieces of furniture for all sorts of occasions. But where did these much-desired chairs first get their start?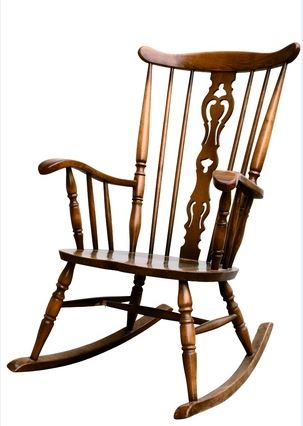 According to One Kings Lane, rocking furniture has been around since as far back as 1710, appearing as a common term in the Oxford Dictionary in 1787. Rocking chairs were typically used back then for mothers and babies in nurseries or for the elderly and invalids in hospitals and mental facilities.
Rocking cradles were used in Europe before the Middle Ages, according to Van Dyke's Restorers in Missouri, and rocking horses were popularized during the Victorian era, but rocking chairs originated in America and were advanced by the American Shakers, a group that created some of the best chairs on the market. Many credit Benjamin Franklin with the actual invention of the chair in 1710, while others credit farmers and early cabinetmakers.
Outdoor rocking chairs first appeared in 1725 in various styles, ranging from the Windsor rocker to the Boston rocker and bentwood rocker. A HubPages article about the history of the rocking chair claims the Windsor rocking chair originated in Windsor, England, and had a hoop-shaped back, spindles that gave it a birdcage-like look and a comb-shaped headrest. The Boston rocking chair, by contrast, was made in New England in the 1840s and became the first mass-produced rocking chair. Michael Thonet created the first bentwood rocking chair around 1860. This style was created using steamed wood, which allowed the chair to be bent into unique shapes.
Not only are rocking chairs comfortable and stylish, they can also provide some tangible benefits to the body and mind. Research studies have outlined therapeutic benefits of rocking, including improved balance, greater relaxation, relief of arthritis pain, ease of depression and anxiety symptoms and more.
Looking for a beautiful, sturdy rocking chair? Carriage House Furnishings provides many different options and styles of rocking chairs created from high-quality wood and made by hand by Amish craftsmen. Choose from chairs made of ash, oak, hickory or maple and in your choice of traditional rocking or gliders styles. Take a look at the entire selection of Carriage House Furnishings' rocking chairs and gliders and order yours today, or stop in and see us and try a chair out in person at our store in the former Lapps Coach Shop in Intercourse, Pennsylvania.