The living room is the heart of your home. It's the room where you gather with friends and family to share a meal or a glass of wine, tell stories or watch them on TV, and simply spend time together making memories. For these reasons and many more, at Carriage House Furnishings, we think living rooms should be as cozy as possible.
While the couch you all settle onto is an important part of the cozy aesthetic, but that doesn't mean your living room tables are any less crucial to having a comfortable space. Here are some of our favorite pieces that'll fit seamlessly into your living room and help make your living room all the more welcoming and accommodating.
Our 35-inch round maple coffee table is the perfect centerpiece for any living room, no matter how your seating is configured. The round shape will encourage everyone to grab a spot to sit, bring their drink, and settle in. The classic dark maple is homey and comfortable, and will complement just about any décor style.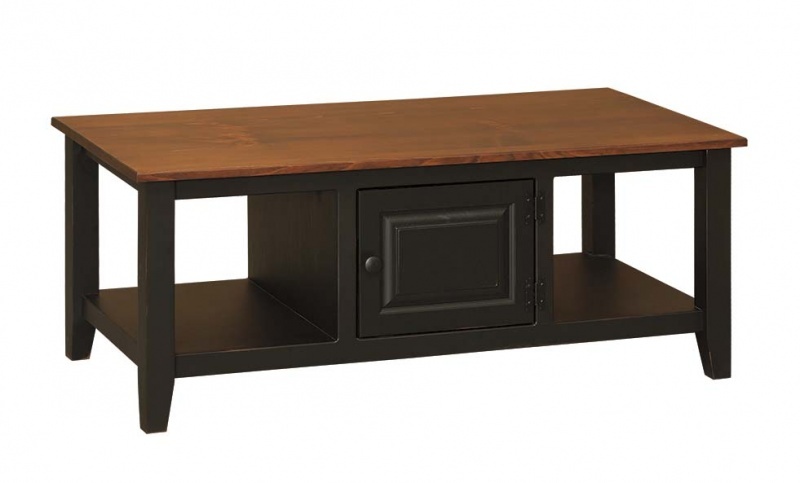 Our bigger coffee table with doors is great for larger spaces and features built-in space for storage of family games, magazines and more. No matter what kind of coffee table style you prefer, the options at Carriage House Furnishings will tie your room together, and give you and your family and your guests a big, comfortable, sturdy spot to gather.
End tables are just as important when we're talking about tables and living rooms. End tables serve a vital role, whether it's simply a place to rest a glass or the home for a lamp! Our end tables with drawers offer different options depending on your aesthetic preferences. Our traditional style end table features a lighter top and a more open stance that blends into a casual room design, while our more modern end table option features straight lines and a squared body, with a lower storage shelf for additional storage.
If you're looking for a little extra storage for the living room, consider a sofa table. These tables aren't for those in the seats but instead provide more storage in your living room. These tables are perfect for larger parties and gatherings, providing a space to store snacks, while the extra cabinet space can serve as a place to keep extra batteries, cords, games, books or anything else.
Take a look at our available living room products online now, and call Carriage House Furnishings today at 717-768-8712 to learn more about any item or to ask about custom options to make your cozy living room look even more inviting.