In a world made for ephemera, we often lose the tenderness that makes the gift-giving season truly special. In selecting the perfect present to give someone at the holidays, we choose to create lasting memories that our children will carry with them beyond adolescence.
Create memories with handcrafted, bespoken toys this holiday that your child will be able to hold onto for years. Here are a few of our favorites.
Rocking Horses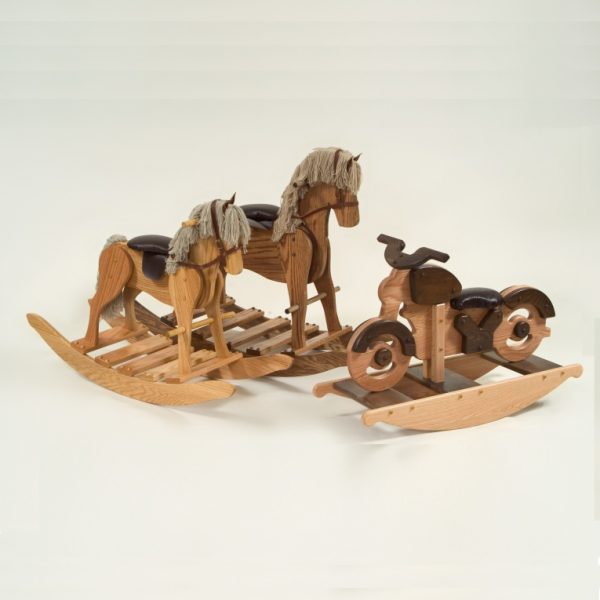 This classic children's toy goes by many names. You've probably heard hobby horse or barrel horse a few times. When wood craftsmen introduced to the world the bow rocker, the rocking horse appeared. During the 17th century the rocking horse was constructed top heavy, and so the momentum swing mechanism wasn't yet refined. In the later Victorian era, horses were often constructed as hollow heads and were used as storage. After America fell on hard times during the Great Depression, very few craftsmen continued rocking horse production. There exists today, however, a few companies that have restored interest in these nostalgic works of beauty.
Wagons
The toy wagon wasn't introduced until the 1880s, and they were first constructed completely of wood. Over the decade their production included steel and plastic. After World War II, wagon production reached a halt as steel was rationed only for war purposes. A toy of European-crafted origin, the children's wagon hit toy stores in a bright, fire engine red color, is still a popular toy sold around the holiday season, admired for its utility and design.
Our solid oak toys, furniture, and other home items are crafted with exquisite detail and care so that they can be passed down for generations and generations as family heirlooms and thought pieces. Take a look at our selection here at Carriage House Furnishings.