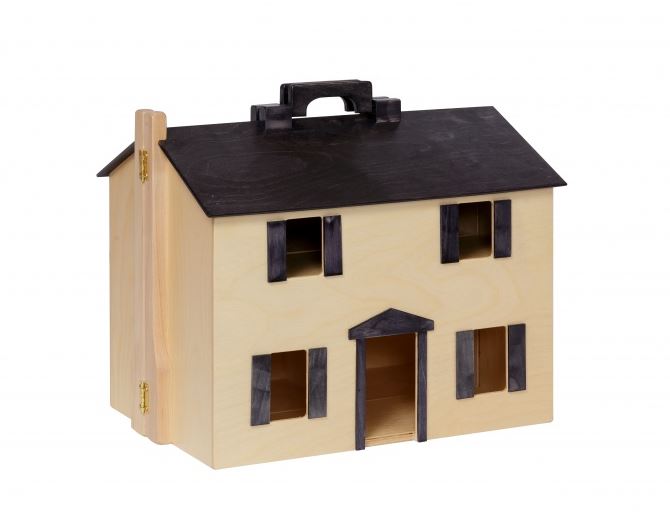 As you walk down the aisle of a big box store you will notice the same plastic, disposable toys year after year. Unlike in times before, toys don't seem to be made to last these days. Whether you are a parent, grandparent, uncle or aunt, it isn't very likely that you will see your holiday gift survive into the next gift giving season. So, why not make a switch this season and invest in a gift that will both delight children AND last for generations?
At Carriage House Furnishings, our classic Amish toys and furniture are constructed from solid wood by a craftsman, not a machine. Each piece is created with care and represents a much simpler era. You will find many different holiday gifts for both boys and girls at Carriage House Furnishings.
3-in-1 Combo Rocking Horse/Chair/Desk
Kids love things that transform. That's why our craftsmen created a wooden masterpiece that starts as highchair, but can be changed into a rocking horse or desk as if by magic! Both boys and girls will be delighted to see their chair quickly turn into a toy where they can pretend to be riding a horse out in the open range, or to be working diligently at their desk to do their homework or crafting activity. As the child gets older, she or he can use the toy as a doll accessory or hold on to it for kids of their own in the future.
Wooden Doll Accessories
Dolls are thought to teach children many skills, including cognitive, fine motor and self-help skills. Plus, kids love to play with dolls! There is nothing more exciting for a young child than to receive a beautiful accessory for their much-beloved doll. Carriage House Furnishings offers a wide array of furniture for dolls, including a deluxe wardrobe, bed, chest, high chair and more! Each piece will expand a child's imagination and may even help the child learn a new skill. Plus, these sturdy pieces can be passed down for generations.
Perfect for both little boys and girls who love farm animals, Carriage House Furnishing's Folding Barn has hinges that open to reveal a hidden scene with wooden animals inside. Removable wooden fences can be arranged according to your child's imagination and animals can be moved into animation. This sturdy toy will not only instantly bring joy to a child's face when he or she sees it, but it will definitely survive many years of fun and play. It's a great way to add more fun to your child's favorite doll playtime, especially if paired with the Folding Doll House for the matching humans at the farm to live!
No matter which wooden Amish gift you fancy, you can be sure that once you see its holiday gift success you will be coming back to Carriage House Furnishings for more! Stop in today at our location at the former Lapps Coach Shop in Ronks, Pennsylvania and see our full selection of expertly crafted doll furniture, rocking horses and other children's play items or shop conveniently online now.