Kitchen counter space is at a premium in most homes, especially smaller apartments and condos. Luckily for those counter-deprived chefs, the folks at Carriage House Furnishings are here to help, with a selection of collapsible tables and kitchen cabinets perfect for small spaces.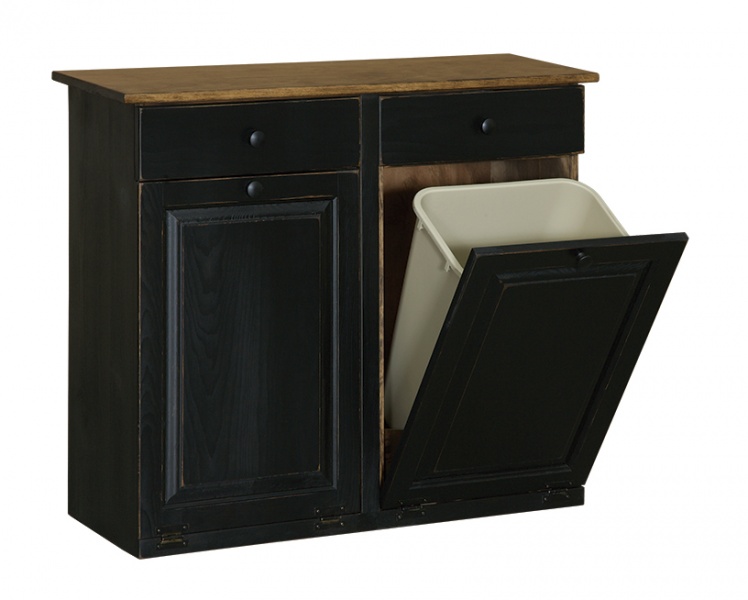 One of our best sellers is the Double Trash Cabinet. This gorgeous walnut piece features a black finish with a naturally stained countertop. The two bottom bins lean out to collect your garbage stylishly – one side for trash and one side for recycling – and there are two small drawers for keeping kitchen odds and ends. The countertop on the cabinet measures 13 by 17 by 35 inches, giving you a bunch more chopping and storage space to work with.
If this option is too big for your space, check out our Single Trash Cabinet. Available in a number of finishes, including black and white, this cabinet features one trash bin that leans out and one drawer on top for collecting things. This option is perfect for compact spaces, where you don't want your trash bin sitting out in the open. This trash cabinet also features a decorative rail that gives you a great surrounded edge that allows you to keep loose items on, like mail, seasonings or even wine.
If your space is so small that you're only looking for temporary seating or countertop space, our folding tables are perfect for you. We have oak folding tables and pine folding tables, both of which are great for small spaces. These tables are about the size of a TV dinner tray, so they're great for adding an extra bit of counter space to a small kitchen or to add a convenient surface to eat dinner on while catching up on your favorite shows in the living room.
All of the high-quality furniture pieces at Carriage House Furnishings are handmade from solid woods, built to offer beauty and lasting functionality to your home. For more information on our handmade products and to learn about the other furniture we have to offer, give us a call today at 717-768-8712 or stop in and see us in Intercourse, Pennsylvania, at the former Lapps Coach Shop.