Remember that old red wagon everyone used to have in the garage or the playroom? You probably hauled your dolls and stuffed animals around showing them the neighborhood sights—or fell asleep on a cozy pile of blankets while your parents pulled you around at the state fair. Thankfully, growing up doesn't mean you have to leave all of your childhood staples behind.
Embrace the nostalgia by transforming a classic wagon into a one-of-a-kind piece of home décor! Invest in a good quality wooden wagon so you can turn it into a functional home accent that will have you feeling like a happy-go-lucky kid again in no time. Check out a few of these creative ideas to get inspired!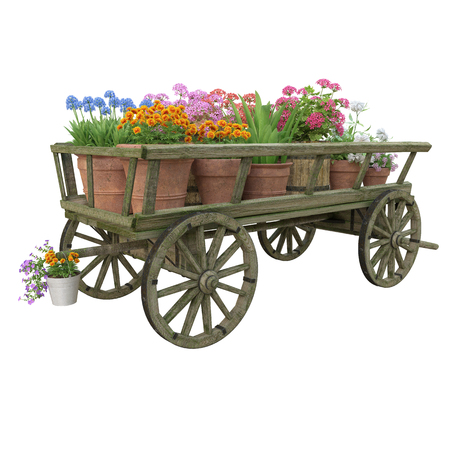 A Garden Planter
Spruce up your backyard terrace with a rustic wagon garden planter. A wooden wagon will infuse your landscape with charm and whimsy you won't be able to find at Home Depot. There are endless opportunities for re-purposing a wagon into a fun garden accent!
Grow a full mobile garden by filling your wagon with soil and cultivating your favorite plants—just don't forget to add a few small holes to the bottom for drainage. Or if you wanted, you could nurture some vegetable seeds and make yourself a little portable produce stand. If you want something with a little less maintenance, try using potted plants to fill up a wagon for a garden that's already in bloom.
Use a wagon to house your favorite succulents; or make it a family project and create a magical fairy garden. There's a lot of fertilizing fun to be had with a classic wagon—not to mention that when it needs some water you can just roll it right over to the hose and save yourself the trouble!
Book Storage
A wagon is a great way to incorporate storage space into your interior design. Fill yours with books to make it a cozy addition to your home library or child's room!
Since a wagon is easily moved and arranged you can adapt it to any space, even if you have to switch up the room. So when your newborn baby is suddenly a toddler in need of a big-kid bed or another toy chest, there's no need to worry about dragging around huge bookshelves or finding a new place to keep their favorite reads! A reading wagon works especially well for children because it's low to the ground and easily accessible.
A Fun Beverage Cart
Tired of shoving the cooler under the table to keep it out of the way during summer barbecues? Lay a tarp on the bottom and fill a wagon with ice to turn it into a beverage cart! It'll be a unique and convenient piece of party décor that your guests won't soon forget.
It's perfect for toting around Huggies and juice boxes when you take your kids to the beach; or for outdoor events so kids can grab a beverage when they need it without interrupting the adults playing cornhole. Use it to distinguish the adult from the under 21 beverages—if you know what we mean—so there's enough room to keep your beer cold in the cooler!
Create a Porch Display
If you want to get really artsy with it, wheel your wagon onto the porch and set up a different seasonal exhibit every few months to keep things fresh. Pack it with fun décor or use it to add some sophisticated charisma to a couple of cheap decorations.
Fill it with pumpkins and crunchy red and orange leaves for the fall; or head to the craft store and get a few miniatures to construct a scary scene to frighten trick-or-treaters. When Christmas comes around you could fashion it into a Christmas tree stand for a small tree and light it up to decorate the front porch! Or you could wheel it inside, throw some fake snow on the bottom, and make it the platform for your mini Christmas village or nativity scene.
Adorn it with flower arrangements and bird statues for spring, and artfully display a beach ball with a pail and shovel or some cute summer flip flops when the sun starts to shine!
A quality wooden wagon is the perfect tool to use to channel creativity and snag a unique accent for your home! At Carriage House Furnishings we have top-quality wagons built with the finest craftsmanship for the best value—and you can get them in different colors too.
Head on over to our website to take a look at what we have available and liven up your interior design today!