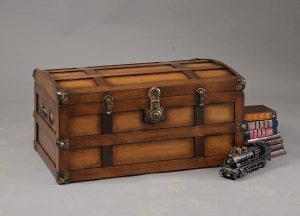 Does your child have a little space to themselves where they can let their imaginations run wild? Chances are, this space is somewhat less organized than the rest of your home. A cluttered play space typically doesn't bother children, but after a while it can become more than a little vexing for parents. What we need is a plan!
A Storage Chest is Your All-in-One Organization Solution
The great thing about having a storage chest in your playroom is that it's easy to get your child in the habit of using it when they're done with their toys. Children might be disinclined to use the detailed, divided organizational tools that their parents prefer, but a storage chest is an easy way to keep everything in one place when it's not in use.
Once you get your child into the routine, putting toys away in a in the chest will become a natural part of playtime. Best of all, once it's time to play again, that storage chest will become a treasure chest of fun activities.
Here at Carriage House Furnishings, we offer storage chests in a number of different sizes, made from some of the finest woods available here in central Pennsylvania. Some of these, such as our large cedar storage chests, can even double as a comfortable window seat.  We also offer a doll chest with a bed for your child's favorite companion. If you really want to capture that "treasure chest" feel, check out our classic steamer trunk!
Want to learn more about all the chests available at Carriage House Furnishings? Stop in today, or give us a call for more information.