Parents out there know that it can be hard to keep the kids interested in their toys. After a while, everything they have seems to get tossed to the side in favor of something shiny and new – or something with a screen! We know that you spent a lot of time and money choosing the perfect dollhouse that can grow with your child, so why not freshen it up with some new furniture pieces to get your kids interested in it again?
Bedroom Refresh
Outfit your dollhouse bedroom in the latest styles from Carriage House Furnishings. Who doesn't love an adorable set of bunkbeds? Our doll bunkbeds are made with maple wood and painted white. Plus, each pair of bunks comes with bedding, so all your kids have to do is arrange them in the space and start playing! Smaller dollhouses or homes for single dolls can benefit from new bedding, too, which is why we also offer the single doll bed, complete with cute striped bedding.
Summer Wardrobe
Your children's dolls will be the talk of the doll neighborhood when they have this lux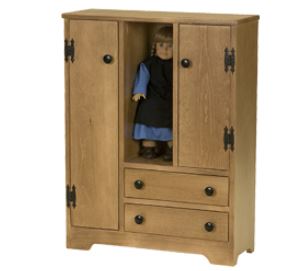 urious deluxe doll wardrobe to house their clothes and accessories. Made from pine in a light harvest finish, this wardrobe may even make the humans in your house jealous of the doll's storage. Plus, this doll wardrobe is large enough to house some smaller dolls, too, making it a storage space for more than just the accessories.
We also have the simple, yet classic chest of drawers, perfect for the dollhouse that is lacking in storage. Made from pine in a harvest finish, this piece is also available in white. Your kids can stow their doll's favorite off-season outfits in the drawers and dress them up for any occasion.
Making Meals and Memories
When it's time for lunch, the dolls need a spot to sit: so, for the kitchen we have a painted maple wood doll highchair, also available in neutral. The model is also available in oak. It's the perfect place for your children's dolls to pull up a seat for snack time.
We can also make playtime more fun with a range of kitchen accessories. Our sink and stove combo will give your child the perfect place to make their tea for tea parties, while the refrigerator piece is perfect to round out the kitchen look. But what about the cups and plates? Store them in the kitchen hutch, and pull them out when it's time to play.
Check out our full inventory of doll products and children's furniture online now and see some of the most popular options available – including all new dollhouses and barns. Stop in to Carriage House Furnishings today and shop our showroom in Ronks, Pennsylvania, or call us at 717-768-8712 to learn more.