The back-to-school season is in full swing, which means your home may be in a bit of chaos. Until things settle down, you may feel overwhelmed with all of the new schedules you need to juggle, and the new activities your kids have going on. But, here at Carriage House Furnishings, we think the fall is a great time to help keep your child reorganized and refocused, and several of the items we offer can help you make sure your home and your kids stay organized this fall.
The best way to keep your child organized is to make sure he or she frequently goes through their toys, and donates what they don't want to play with anymore or that are broken. Throwing away items that can't be repaired or sending things that your kids aren't interested in anymore to your local thrift shop or charity donation bin can help keep the toy collection organized and under control. The fall is a perfect time to do this kind of clearing out, reminding your kids that the holidays are coming up which means they'll need to make room for any new toys they may receive and give ones they don't use a chance to find new life with another family.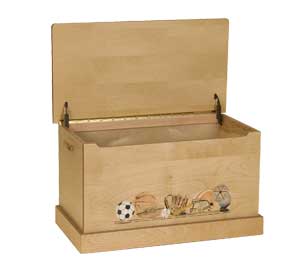 To help keep things looking neat and clean in the playroom, check out Carriage House Furnishings' maple toy chest. This sturdy chest gives your kids a spot to store all of their toys, and will keep the playroom or living room looking neat and tidy. You can also request a sports scene option that adds a distinct look that makes this chest a perfect place to store shoes, gloves, footballs, soccer balls or anything else for outdoor sports by the door.
Another way to keep your kids focused and energized this fall is to provide them with a dedicated spot to do their homework. Our hickory child's table and chair set or our child's oak table and two chairs are perfect options for this purpose. If your kids are always working on their homework in the same place, they'll never misplace their books or miss an assignment. Plus, if your child colors outside the lines a bit, the finish offers a layer of protection to make cleaning off stray crayon or marker lines a breeze.
Keeping your kids and your home organized this fall is all about consistency, strategy, and having fun when you can! Help them out with these and other great organizational items available at Carriage House Furnishings. To learn more, stop in and see us at the former Lapps Coach Shop in Ronks, or give us a call today at 717-768-8712.