In a home full of children, it's common for your toy room to get cluttered. However, sometimes it can get a little overwhelming, and at times, you may even have trouble finding your floor.  After the holidays, it's the perfect time for families to declutter and organize their toy room. 
Here are a few ways that you can successfully declutter your toy room: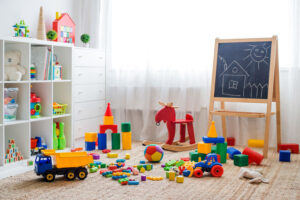 Donate or Store Old Toys
One of the first steps to create a clean and organized room is to sit down with your child and select toys that they no longer play with. Together you can decide whether you want to donate them or store them away for future use. 
Organize Your Playroom
Does your playroom have the storage it needs to help keep it clean and organized? Try evaluating the layout of your playroom and divide it into about three or four zones. For example, you can have one area for books, another for dolls, and a crafts zone.
Each zone should then have some way to store each of the items. So, your book area should have a bookshelf to store books and other items kept in that area. You may also add a dollhouse to help store some of your child's dolls and accessories in that area. Lastly, adding a toy chest would be a great way to store your child's crafts!
Label Bins to Help Promote Organization
One of the most important ways to help your toy room stay clean is by making sure that your child understands where their toys go after they're done playing for the day. Whether you dedicate zones for them to play in, label your bins, or cut out pictures of each toy and tape them to their appropriate basket, your child needs to be able to identify these areas. Once everything is properly laid out, your child will be able to help keep the playroom clean, organized, and free from clutter.
Dedicate Times to Clean the Playroom
If you want to keep your playroom decluttered throughout the year, you're going to want to stay on top of cleaning it. Schedule times to clean the room together, so you can help teach your child how to put everything back in its appropriate places.
Adding More Storage to Your Playroom
At Carriage House Furnishings, we have Amish-made furniture for sale that will make a great addition to your playroom. Shop our showroom of solid wood furniture today and contact us online with any questions!