Although nightstands take up very little space in your room, a narrow bedside table can significantly improve your bedroom's organization and functionality. Some nightstands have larger surfaces to hold items such as a lamp, an alarm clock, and your phone. While other nightstands serve as a decorative addition to your room.
If you want to learn how to make the most out of your nightstand, try following a few of these organization tips!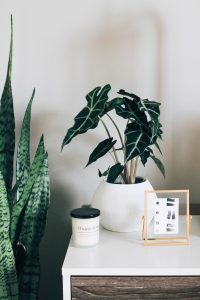 Eliminate Items You're No Longer Using
Your nightstand can become a magnet for unnecessary items. Nightstands have limited space, so it's important to remove things like old books and papers that no longer serve a purpose being near your bed. By eliminating these unnecessary items, you now have room for your bedtime essentials.
Organize Your Nightstand Shelves
Having a nightstand with built-in shelving for extra storage, having a shelf instead of a drawer gives you a little more room for creativity when organizing. Try adding a decorative storage container on your shelf to tuck away larger items like electronics or tissue boxes.
Only Store Your Essentials in Your Drawers
Any items you keep beside your bed should serve a purpose. Include anything you might need before going to bed or while waking up in the morning. Some things you may include are phone chargers, a flashlight, or maybe your current read.
Decorate by Hanging Art or a Mirror
Now that you've organized your nightstand, it's time to decorate it. One unique way to save space on the top of your nightstand is by hanging a piece of art above it. Instead of hanging the pieces above your bed, this look is unique, different, and eye-catching. 
Add Small Trinkets to the Top
Adding small trinkets to the top of your nightstand is another excellent way to style your bedroom. Although they may be small, these items can transform your nightstand and make it feel complete. Try adding useful things like a small decorative bowl to store your watch or jewelry at the end of the day!
The right nightstand can bring your room together. Instead of the area around your bed looking plain and simple, accessorize your nightstands with the essentials to make your space feel complete. At Carriage House Furnishings, we have a diverse selection of hand-crafted bedroom furniture that will be the perfect addition to any bedroom. Browse our online collection or in-store to find your one-of-a-kind, eye-catching pieces today!