The sun's powerful rays can impact even the highest quality of material. The summer, is the most important time to look into how you should be protecting your wooden furniture to make sure that it stays looking as good as new for years to come.
Here are a few ways that you can prolong the life of your indoor and outdoor wood furniture: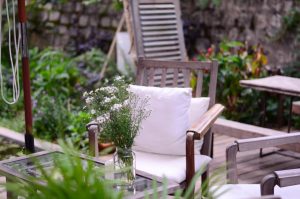 Utilize Your Blinds and Shades 
The best way to help maintain your furniture's original condition is to block out the sun altogether! If you're worried about your inside furniture dulling, make sure that you are covering your windows with the proper blinds and shades to protect your furniture from the sun, even at its strongest hours.
Rearrange the Furniture in Your Home 
Most homes will have a few rooms that draw a lot more sunlight than other places. If you have furniture displayed in a room that receives a lot of direct sunlight, try rearranging the furniture. Dark-stained wood tends to show signs of sun damage faster than lighter pieces, so be sure to keep this in mind before you start moving pieces.
Also, keep this in mind for your outdoor furniture too!
Cover Your Furniture Up
If you have valuable outdoor furniture that you want to make last, invest in furniture covers of various sizes to help protect your outdoor wooden tables and chairs. Most covers are usually made of polyester, vinyl, or canvas and will help protect your furniture from water, UV's from the sun, and other outdoor creatures. It's always best to choose a cover that offers complete coverage from wind, sun, and rain.
Think About a Sealant 
The summer weather can be unpredictable at times, so it's always best to take precautionary measures to keep your outdoor wooden furniture protected. Applying a water sealant to your furniture will help maintain the look of wood and give your furniture protection against the rain and other moistures. If you're not sure what sealant to use on your wooden furniture, you can always ask a professional.
If you're looking for a quality selection of unique wooden furniture pieces, Carriage House Furnishings has what you need! We carry a wide variety of indoor and outdoor wooden Amish furniture for every home. Visit our showroom or browse our online selection today!