After a dreary, gray winter, spring inspires us to add color back into our world. With the flowers blooming, sun shining in blue skies and growing green grass, the joyful outdoor scene sparks creativity in our home décor. Spring is the perfect time for change, so why not add spring-like rustic charms and accents to freshen up your house?
The first room in your home to receive a reboot should be the most popular one. For many of us, this is the kitchen – the gathering place in the home. A simple way to add both color and texture to the kitchen is with a decorative, spring-themed plate. Place the plate on a stand on the counter top or above your cabinets if there is space. The best part about such a simple fixture is that it can be changed from season to season, allowing you to keep your décor in line with the calendar.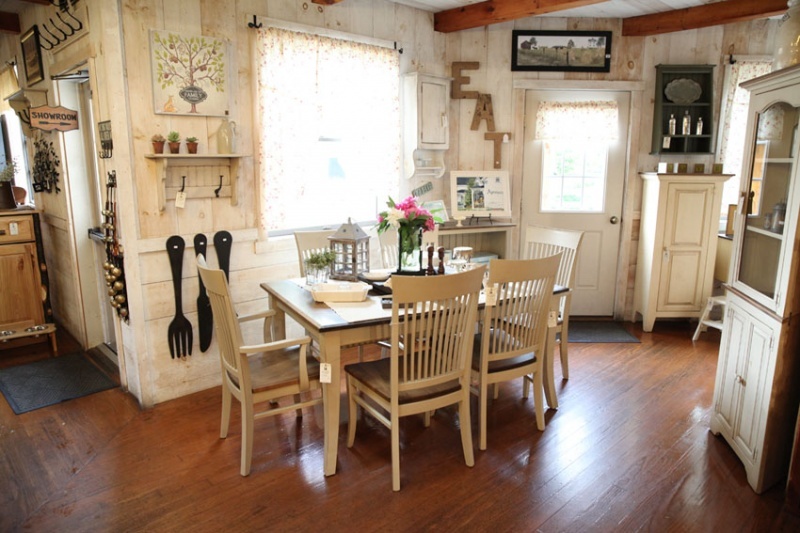 If you are looking to make a bigger change to the space, consider spicing up the kitchen with a new table set. A light-colored set like the Cambridge dining table set from Carriage House Furnishings will immediately brighten the room and make it feel refreshed. You can also change out your lighting by replacing your traditional light fixture with a rustic conversation piece like a wooden wheel-shaped overhead light to add a new kitschy look to your kitchen.
The living room is another space that often needs decorative attention from time to time. Add a new cabinet can provide your room with extra space to display crafts, your child's artwork, picture frames or your various accent pieces. You can even place this cabinet between the kitchen, living room or dining room with a display of upscale plates that offers a classy and elegant look and an easy transition between rooms in an open floor plan.
Need even more space for all your accents and charms? Include an entertainment center flanked with bookshelves in your living room featuring a rustic lantern or wooden block letters in various colors spelling out words and phrases like "Family" and "Home Sweet Home." Or, add spring and summer crafts and florals like decorative white picket fences, birdhouses and colorful vases to the shelf to create a springtime scene to mimic the rejuvenated world outside.
Don't neglect other high-traffic zones in your home like a wide hallway or the man cave. A classic wooden bench or a wall hanging with a catchy saying brings life to a boring hallway. Plus, there are great ways to surprise your husband with an accent in his man cave that he will love too. Nothing says "rustic" like a bourbon barrel table!
Let your ideas go rampant or come visit Carriage House Furnishings with an open mind and see what catches your eye. Either way, our friendly staff is ready to help you freshen up your home for the new season. Have décor questions? Call Carriage House Furnishings at 717-768-8712 or stop in and see us today at the former Lapps Coach Shop in Intercourse, Pennsylvania.