You want your guests during the holiday season to feel warm, comfortable and welcome while gathered around your table. If you're looking to add some extra space or upgrade your dining room's look, Carriage House Furnishings can help you make your dining room a more inviting space that ensures your guests feel at home.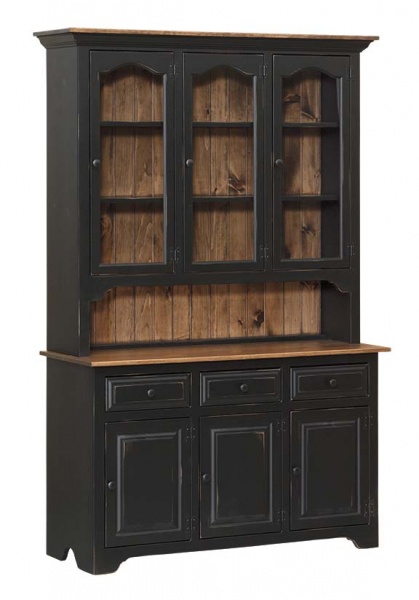 If the kitchen is the heart of the home, then a good table is the heart and soul of the party. The Solid Top Westin Table from Carriage House Furnishings is the perfect piece for your dining room. This table is large enough to give everyone plenty of room while the optional bench seating can make the table feel more cozy and welcoming. The cappuccino finish makes the wood look both elegant and rustic. Simply add a festive centerpiece and some seasonal kitchenware, and your dining room is ready for the holiday season.
A three-door hickory hutch is the perfect addition to a classic country dining space that also provides storage space for all of your good plates and serving dishes you need during the holiday season. Available in your choice of black and walnut or hickory finishes, each hutch features glass doors that allow you to show off your favorite bowls and plates all throughout the year, as well.
Of course, the holiday meal also involved a lot of time in the kitchen, and whether your guests are keeping you company or you're looking for more space to finish all your preparations, an island can be an exceptionally versatile addition. The French Country Kitchen Island offers a beautifully distressed look, but is a sturdy option to add additional counter space and additional kitchen seating. Whether you're enjoying your morning coffee or setting out appetizers for guests to snack on, the French Country Kitchen Island is a functional and attractive addition to your space. You'll wonder how you managed without it for so long!
This holiday season, create an inviting space where you and your loved ones can make memories for years to come with Carriage House Furnishings. Stop down and see our full kitchen and dining room furniture selection at the store in the former Lapps Coach Shop in Intercourse, Pennsylvania, or shop our inventory online now. To learn more or to check on the availability of any item, call us today at 717-768-8712.