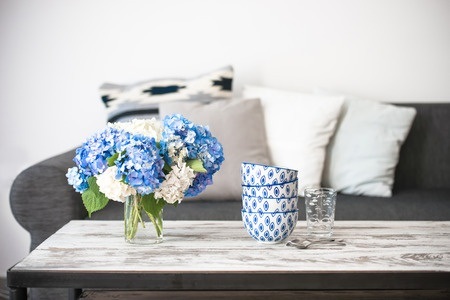 Traditional design etiquette might have you believing that you should be sticking to one certain type or stain of wood within your home. However, modern design trends are shifting away from this concept and are encouraging people to incorporate some mixed woods.
Here are a few easy ways to mix different woods into your home décor, so that you don't have to worry about always having matching furniture pieces!
Mixing Dark and Light
Creating contrast in your home is the key to a cohesive design: if everything is the same color, you run the risk of your home looking too staged. Instead of opting for all pine, mix your pine pieces with a dark cherry piece. Light and dark contrasts will give the room some dimension. Stick to one light shade of wood and one dark, and if you want, add in a painted wooden accent piece.
Flooring Contrast
If you have wood floors, it is suggested that you break up the space by using lighter or darker woods for your furniture. Having just one shade of wood in a room can leave your home décor feeling too simple. Instead, mix your dark wood floors with light pine furniture or vice versa.
Learn to Balance
To showcase a dark piece that you love, surround it with lighter pieces, or if you're feeling bold, white washed finishes. The lighter colors will help the dark pieces to pop and the color contrast will give the space a good balance.
Pay Attention to Grain and Texture
Just like mixing and matching wood stains will give your space dimension, mixing grains and textures of wood will do the same. Add a reclaimed wood accent piece to a room that has an oak floor in order to show off something rugged by comparing it to something smooth.
Carriage House Furnishings offers the very best in Amish Furniture in the Lancaster PA area. Our products are designed and solid wood constructed to add beauty to your home while being highly functional at the same time.