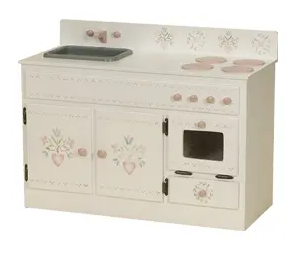 We all want what is best for our children. In the age of tablets, electronic toys, and loud distractions, sometimes taking it back to basics works best. Playsets are a great way to encourage imagination, but they also have a myriad of other benefits. There are many different types of playsets, but those with real-life counterparts- like kitchens and refrigerators, have a wide array of benefits.
Aids in the Development of Motor Skills
As children continue to play with their set, their motor skills will improve! As they pretend to cook in their kitchen, they learn tangible skills- how to cut, wash dishes, and move around a kitchen. Though they may not be using real knives, it makes it easier to transition to that step. Muscle memory will serve them well, and when they are asked to help cook dinner for the first time, they will be ready with the skills they learned by playing.
Teaches Responsibility
Responsibility is a valuable lesson to teach to our young ones! By having a play kitchen set, you are not only verbally teaching them but allowing them to experience it firsthand! They will learn how to organize, "cook," and clean as they continue to play in their kitchen. Of course, we teach our children how to clean up after themselves, but it can go beyond just picking up toys they played with. Cleaning up a kitchen is an important part of adult life- the consequences of not doing so can bring pests, mold, and insects. Instilling the values of kitchen clean-up in your children- even when they do it with their play set, sets a pattern in their brain. Making these patterns in childhood means they are going into adulthood well equipped with skills to thrive. It also teaches them safety- not only by avoiding mess but by properly handling things. Even play knives can teach how to cut safely, and by showing them proper cutting techniques, they can mirror it with their tools.
With the addition of certain items, like a hutch or a table, they can also learn how to set the table and put items away!
Giving your child an Amish Made playset ensures that they will learn how to be responsible in the kitchen and in their life. Amish furniture is built to last; this playset will last generations, much like the lessons it will provide! At Carriage House Furnishings, we pride ourselves on providing you with high-quality Amish-made furniture. To learn more or place an order, visit our online showroom, or call us at 717-768-8712.