As winter fades into spring, many bird watchers are getting excited for the warmer weather and the beautiful birds it brings. Whether you are an avid bird watcher or just love the fluttering and singing of birds in your backyard, you can benefit from a delightful birdhouse to attract lovely songbirds.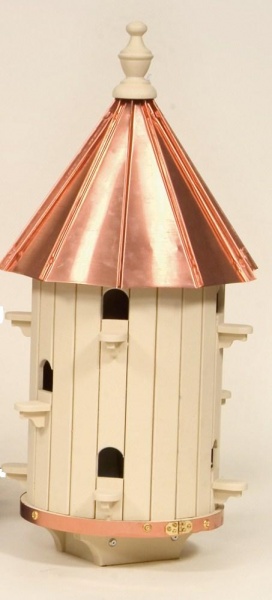 Carriage House Furnishings designs sturdy and attractive birdhouses that will add charm to your garden, patio, lawn or backyard like the Amish-made hi roof martin house with copper roof – sure to entice a variety of birds all year long. Although bird watching will be different depending on where you live, there are many species known to live in birdhouses. According to The Seattle Times, western bluebirds, wrens, titmice, woodpeckers and tree swallows should flock to your birdhouse as long as it is put in the right location. Visit Bird Houses 101 for great advice on where to hang your birdhouse.
In addition to a beautiful birdhouse, you should also have a feeder to welcome birds into your yard. Carriage House Furnishings offers a great large bird feeder with a copper roof to coordinate with your birdhouse.
Spring is the perfect time for you to ready your lawn for flying visitors. According to Bird Watchers Digest, some of the species you might see as spring approaches are house and purple finches, white-breasted nuthatches and song sparrows. Be ready for an assortment of birds with a beloved birdhouse and bird feeder made by true craftsmen.
Constructed with solid wood and designed for beauty, the birdhouses and bird feeders at Carriage House Furnishings are functional and enchanting. Instead of purchasing a flimsy birdhouse and feeder that will last you one spring, invest in a set of outdoor furnishings that will continue to bring joy to your home season after season. Call Carriage House Furnishings at 717-768-8712 with questions about our products or stop in and see us at the former Lapps Coach Shop today.