Now that the holiday season is over, you've likely given and received at least a handful of gifts, several of which were new pieces of jewelry, if you're lucky. Whether you were given new jewelry or you decided to treat yourself, you likely have one problem: just where are you going to keep your new collection? Even a few new pieces of jewelry can crowd an already cramped drawer or cabinet, so it may be time for an upgrade. Fortunately, there are several great options to choose from when it comes to jewelry storage chests at Carriage House Furnishings.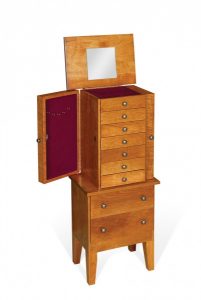 For example, take the Cherry Shaker Jewelry Armoire. Not only does this armoire have plenty of space to store your jewelry, but it will look beautiful in just about any room. This armoire can easily fit in your bedroom or elsewhere throughout your home without taking up a lot of space. With several drawers – both large and small – to store jewelry in, this armoire is the ideal solution to your storage needs.
If you're looking for something a little smaller, the Oak Jewelry Chest with Roses is a great choice. This small chest is made from high-quality oak, ensuring it will stand the test of time. The chests and drawers you store your jewelry in should be just as beautiful as the pieces themselves, and this chest certainly meets that criteria.
There are many other options to choose from if you're looking for a suitable storage unit for all of your new jewelry. Take a look at our full inventory online, or give us a call today at 717-768-8712 to find out more. Of course, you can also stop in and see us at the former Lapps Coach shop in Ronks and pick out in person the right choice for your storage needs.