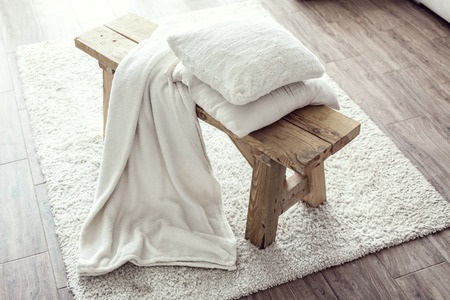 With an emphasis on strong and rugged textures paired with simple and neutral colors, the rustic style suits bedrooms fairly well.
Transform your bedroom into a relaxing and rustic space with the following tips from Carriage House Furnishings.
Country Colors and Texture
Whether you're a fan of wood paneling, distressed wood, or reclaimed wood, these textures are a must-have when creating a rustic bedroom. Wood helps to give rustic rooms their country charm and standout flair. Adding wooden elements to your room gives it an instant rustic appeal. Think reclaimed wooden signs, stacked wooden crates, wooden headboards, and so forth.
Neutral colors pop well against wooden features, such as bright whites and bold beiges. Cooler colors such as blues can also add interest to an otherwise neutral color palette.
Rustic Furnishings
Often serving as a main focal point, furniture can often make or break a bedroom theme. To create a rustic bedroom, focus on furnishings that amplify your space with country chic elements. Consider choosing wooden nightstands, side tables, and chests.
A hickory bed set can serve as a fitting statement in your bedroom and will hold up for decades to come. Pine bookcases can also tie into a rustic theme and provide extra storage into your bedroom as well.
Rural Accents
Small touches and attention to detail will help to pull your rustic theme together. Think of using different types of lighting that could completely change the feel of your space, such as glass lamps or a lamp wrapped in a rustic rope.
Don't forget to add country-inspired décor into your rustic bedroom, such as horseshoes or mason jars. A white pitcher filled with flowers can help capture the charm and elegance of country living.
Carriage House Furnishings has multiple showrooms where you can browse our Amish made furniture for sale in Lancaster County, PA. Our products are designed and built of solid wood with unmatched attention to craftsmanship.