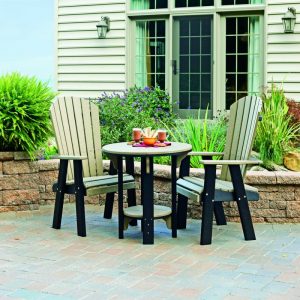 Summertime is right around the corner! Which means it's time to pull out our patio furniture and prepare for spending more time outdoors. When you're decorating your patio, you should fill it with furniture that brings comfort and function.
If you plan on spending a lot of your time outdoors this spring and summer, make sure you have these items for your outdoor patio: 
Make a List of the Patio Furniture You Will Need
Before you blindly begin purchasing furniture for your patio, give some thought about how you would like your outdoor space to function. Do you plan on having guests over for bonfires throughout the summer? Or do you enjoy having family dinners outside on warmer nights? Make a list of activities you would like to do in the space, and that should make a great guide to help you decide on the type of furniture you need. 
Choosing the Right Furniture for Your Needs
Depending on the size of your backyard, you have a few options on how you'd like to move forward with your patio furniture setup.
If you have a large backyard, you may want to set up different zones for your patio furniture. For example, one zone can be for dining, and another can be for relaxing. The possibilities are endless for patio furniture, but you're likely going to want to add at least a table and some chairs for your guests to relax! 
Add a Patio Umbrella
If your backyard could use some shade, consider adding a patio umbrella for a quick fix. Freestanding patio umbrellas can bring you shade throughout your backyard wherever you may need it! 
Add Some Outdoor Speakers to Your Yard
If you plan on spending a lot of time on your patio, it's worth adding a portable wireless speaker. Music helps create an ambiance to your backyard, making sitting back and relaxing that much more enjoyable. Plus, it's great for when you're hosting events! 
Invest in Long Lasting Patio Furniture
Don't settle for plastic outdoor furniture for your patio. Instead, invest in some solid wood furniture that will last you through years of wear and tear. At Carriage House Furnishings, our outdoor furniture is made of solid wood and built to last. From patio staples like our Poly Fan Back Chair to our Poly Curved Back Glider, we have many great outdoor furniture options for you to explore. 
Shop our online showroom today!