Amish heritage is filled with time-honored traditions that often inspire—or are inspired by—other cultures. One of the most celebrated practices is the creation and passing down of the hope chest!
Hope chests are often some of the most beautiful works of art that come from the hands of skilled Amish craftsmen. They're made with the same, if not more, care as all Amish furniture, stunning ornamentation, and impeccable quality. Let's explore the history and meaning behind the concept of a hope chest a little further!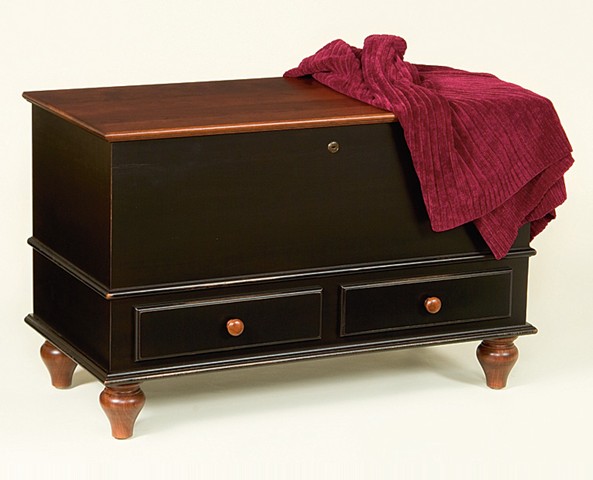 What is a hope chest?
A hope chest—also called a cedar chest, dowry chest, or glory box— is a special box intended to be filled by unmarried women with the essential items she'll need for married life. A young girl spends years building her collection as she acquires and comes across these necessities. Customarily, a hope chest will include bed and table linens, quilts, special clothing, sometimes kitchenware, books and inspirational readings, and other sentimental relics.
What does a hope chest symbolize?
In Amish culture, hope chests are considered special pieces of art and often serve as a family heirloom. To a woman, the box represents the hopes she has for marriage and the journey toward an important milestone. A hope chest is typically handed down through generations and has come to symbolize the enduring emotional bond within a family.
Do people still use hope chests?
Europeans brought the tradition of the hope chest to America centuries ago, and their prominence has not waned. While they have evolved to be created more with sentiment and nostalgia in mind than necessities, they are still an integral part of Amish culture. Mothers often fill them throughout their young daughters' lives and hand them down symbolically when they leave home.
The hope chest and other authentic Amish chests have become stylish and revered pieces of many family homes and histories. It's not too late to make one a part of yours!
Carriage House Furnishings carries a diverse selection of hand-crafted chests just waiting to become a part of your family's story. Browse our collection online or in-store to find your one-of-a-kind Amish hope chest today!