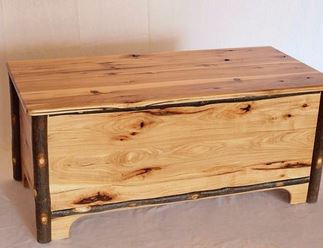 When it comes to what can be constructed with hickory wood, the sky's the limit.
Hickory wood is one of the most commonly used materials in the industry, especially when building furniture.
Tables, chairs and dressers are always made better with hickory.
History of Hickory
Hickory wood has been used for furniture and flooring for years, and with many different varieties, there is a type for every project. Some of the most common types include southern shagbark hickory which grows in limestone soils, bitternut hickory which is found in moist and damp forest thrives, and shagbark hickory that is most common in drained soils. These varieties have all been used for decades. The type of hickory utilized depends on the project and the builder's personal preference.
Advantages of Hickory
The most significant advantage of hickory is that it is commonly used in anything from wagon wheels and lacrosse sticks to golf clubs and skis. In addition to that, hickory has a type of living energy that makes it great for burning in fireplaces and wood stoves.
Of course, hardwood is especially great for furniture. It is considered to be one of the stronger woods, so it is great for tables, bookshelves, and benches, among many other pieces.
Hickory is also more stain resistant, making it a great choice for dining room tables and nightstands. Hickory also basically takes care of itself and requires very little upkeep.
Most importantly, hickory wood furniture just looks better. The wood grain provides a very unique texture and it hardly ever needs to be painted over. In the end, hardwood furniture just adds a level of class to your home that will impress all who enter.
Here at Carriage House Furnishings, we offer at extensive collection of hickory furniture. Stop by our hickory page and find the perfect piece for your home.