Wood is one of the most popular resources for creating exceptional quality furniture! It's strong, long-lasting, and makes a beautiful rustic accent to any space.
One of the great things about using wood to make furniture is that you have a wide variety of types to choose from—all with their own set of unique and valuable characteristics. Natural wood comes in two expansive categories: hardwood and softwood. Each kind has distinctive advantages that make it a wonderful resource for producing excellent pieces of handcrafted Amish furniture!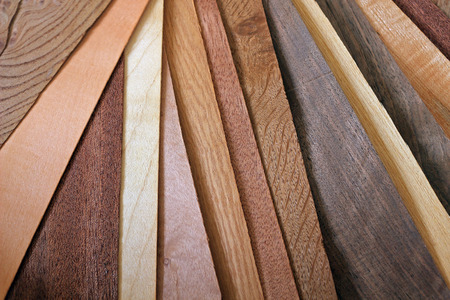 What is hardwood?
Hardwood comes from flowering trees—also called Angiosperms—that lose their leaves annually. This type of wood has very dense fibers and is primarily characterized by the presence of vessels that make it porous or absorbent. Variations of mahogany, oak, maple, and hickory are all examples of hardwood.
What is softwood?
Evergreen trees are comprised of softwood. Evergreens are coniferous, meaning that unlike Angiosperms, they retain their foliage year-round. Softwood tends to be lighter in color and is considerably less dense than hardwood. Its fine wood texture makes it ideal for making furniture. Examples of softwood include pine, spruce, red cedar, and fir, among others.
What are the advantages of hardwood furniture?
Furniture made with hardwood is going to be extremely durable and sturdy, as a result of the wood's complex structure and compressed fibers. Hardwood furniture is harder to come by, but it's one of the highest quality materials available. Its strong framework makes it optimal for heavy-use items—like a dining room furniture set—and more resistant to damage and decay. Hardwoods are typically richer and deeper in color.
What are the advantages of softwood furniture?
Softwood is our primary source of timber and is the most common type of wood used to construct furniture. This makes softwood furniture significantly cheaper than its hardwood counterpart, and more readily available in a wider variety of pieces. Because the fibers are less dense, this kind of furniture is easy to work with in development and not as difficult to move around. Softwood is lightweight and lighter in color, giving it a charming rustic look. It also takes stain and paint very well.
Whether you opt for a sturdy piece of hardwood furniture or more delicate, softwood furnishings, there's no debate that wooden furniture is the most reliable and unique kind on the market! Each and every one of the pieces at Carriage House Furnishings has been crafted by hand with great experience and care. Check out the wide selection of superior quality Amish wooden furniture we have available online and in-store!