With the new year quickly approaching, it's often a common time to redecorate your home. If you're looking to remodel your house, start with the kitchen!
Remember, your kitchen should offer great storage and functionality. One part of your kitchen that you should focus on is your island! 
There are several reasons to add an island to your kitchen. Here are some of our favorite reasons: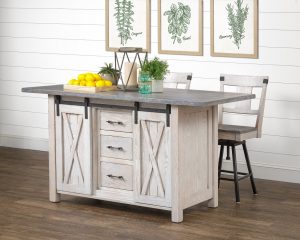 Islands Offer Additional Storage Space
If you're adding a new island to your kitchen, make sure it's one that offers plenty of storage. Some kitchen islands have storage with additional cabinets or shelving, which is great for busy kitchens or ones that lack storage. 
Kitchen Islands are Great for Kids
An island will allow your kids to help in the kitchen. The island's height helps kids feel apart of the action, and it's a sturdy spot to work! Children also enjoy gathering around the island to complete their homework or enjoy a nice afternoon snack. 
A Separate Work Station
One of the best parts about adding a new island to your kitchen is that it offers more room to prepare meals. If you typically have a busier kitchen, having an island will give you extra room to work while there are multiple people in your kitchen. To make things easier, you can store your baking sheets, measuring tools, and cutting utensils in your island so that everything is in one convenient place! 
A Focal Point of Your Kitchen
Not only is your island practical, but it also helps complete the look of your kitchen. When your guests enter your home, your kitchen island will be one of the main focal points. If your island weren't there, your guests would be looking at your plain cabinetry. 
Since your kitchen island is a focal point, make sure you're investing in a timeless piece. 
Purchase a New Island for Your Kitchen
Are you looking for a new kitchen island? At Carriage House Furnishings, we offer beautiful, handcrafted, solid-wood furniture that will meet your household needs. 
Browse our online selection of kitchen islands, and contact us today with any of your questions!