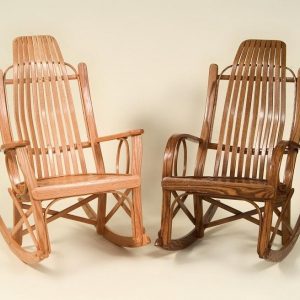 With fall festival season in full swing, now is the perfect time to relax on the porch and watch the world go by. As much as we might miss the warm summer nights, there's something truly special about that crisp autumn air that brings the senses to life. The air smells different, the world feels a little smaller and our bodies feel poised for hibernation. What better place to settle down for the season than in a rocking chair? Here at Carriage House, we make rocking chairs in all shapes and sizes to suit the needs and tastes of our customers.
Looking for something simple and traditional? Why not add a dash of southern charm to your front porch with an ash ladderback rocker? The design might be simple, but that doesn't mean it isn't comfortable, too. We've spent hours lounging (and sometimes napping) in these classic rockers.
Or maybe you'd like to get cozy with a loved one this fall. Check out our rocker built for two, the hickory and oak swing rocker. You'll love relaxing after a long day with that special someone in this eye-catching piece of furniture.
But let's not forget the little ones! With this bowback rocker built specifically for children, you can kick back with the whole family this fall. Someday, it might even become a seat for the grandkids!
Want to learn more about these or any of the other pieces available at Carriage House Furnishings? Browse our entire inventory online, or give us a call today for more information. We'd love to hear from you!